"Make Your Web Presence What They Expect!"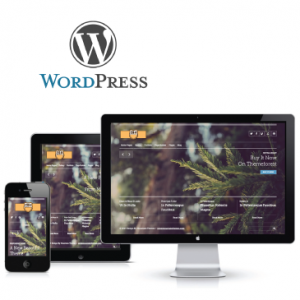 Desktop, Tablet, or Phone. Your Site Needs To Be Responsive …And Beautiful.
First impressions are everything. Your business needs the right one! No other marketing piece makes you look bigger then you are, …or smaller. If you do not have a beautiful responsive website, you need to consider what we have to say below.
The nice thing about the site you get from GLD is that it's all yours. We'll quickly set it up and send you the codes to enter and update as you need.
FAQ
Why GLD?
GLD uses WordPress, which is a universal platform that is understandable, responsive, and under your control. No longer do you have to deal with a specific developer or have another developer tell you that they need to start over when you ask them to update your site. No longer does your site require a big screen. And, no longer is your website under someone else's control. WordPress is really the only option for a small- to mid- sized business that needs a nice way to introduce themselves to their customers.
How GLD Can Help?
We'll take the information you have and move it to the new site, while giving you valuable input about how to make it better. GLD's web team boils the process down to a simple collection of steps that gives you options and keeps everything under control, keeping the costs low. We'll outline the information you'll need to collect and then put it all together, giving you a new, responsive, and professional product.  It's worth it to us because when your site looks better, GLD is able to send your customers to a better place, which makes the Great Lakes look better.
How Much Does It Cost?
$899 for the site if using the content you send us, or… we'll come up and spend a day taking pictures, helping you write the content, and build the site for $1,699! That's it. GLD will take your information, format it, help you fill out any missing information, put it all together, and hand over the keys. Fill out the form below and let's get started.
What Do I Get?
Template, installation of template, and responsive single page site (example) that includes all the important information you'll need to look great. Sometimes less is more, and in this case it couldn't be more true. If additional pages are needed we'll let you know if there will be any added costs before we start. If it is a simple process we'll try and get it all done for the original price. In either case, you will have a great looking site that will provide all the information needed to put your customers in contact with you.
Two Sample Sites
Each site is unique and has it's own requirements. Some need a logo and a bit extra, but many can be put together with existing information and photography for the base rate of $899. Live Eye Data™ is a perfect example of a concise site that we put together to place the product on the market with a fresh professional presentation. Team SuperManners took a little extra, but when boiled down, it was as simple as getting the correct images, content, and putting it all together! Take a look at these sample sites and then let us know what we can do for you! We'll grab the right layout from our stock and get you up in a matter of days everything is in order.
Consider your Photography?
One of the most important elements of your new site will be the photography. Every image on your site says something about you, good and bad! Send us your photos and we'll suggest any alterations, request new ones, or send a thumbs up! Another consideration for you if you want to stay with the lower amount is to hire a local photographer. From our research we can see that there are probably some unbelievably talented photographers near you right now. Let's work together to make sure that you get the best result for your investment. We have the experience to suggest things that will make you look better.
What If I Don't Have A Website?
That's why we're here! There is no doubt that it takes more time to start from scratch, but we will still get you up and running for the same amount. To get started all you need are some great photos and a few words about what you offer. We'll place it in a nice web-setting so you become an option for the current traveler.
What If I Want To Purchase A Domain and Get Server Space On My Own?
Get Hosting and A Free Domain Name Now!: If you do not have a url and want to lock one in at the introductory rate for longer then 12 months, click below and work through the special offer by first selecting your domain name and then locking in your host for three years. This is the host that we have found to work very well and have very good support.
Lock In your Domain And Host Now!
What If I Want GLD To Make Modifications In The Future?
GLD can maintain your site for you. If that time comes when you need adjustments made to your site, we can we an figure out what is required and provide an estimate base on our hourly rate, or in some cases, companies request that we are on a monthly base rate and take care of all needs whenever they arise. Cost can be provided at that time, if requested.
What You Get — No Monthly Fees!
A Domain Name for 12 Months (If you do not already have one)*
Site Hosting for 12 Months (If you do not already have it)**
Email Box (If you do not already have one)
Responsive WordPress Template
Required Plugins
Main Page Layout With All Required Sections
Template Documentation On How To Modify Site
* A new domain name is included, but as with all urls, you will have to keep it active after 12 months. This is nothing unique, but we want to mention it. If you lock it in yourself using the link above you can select 36 months and make sure the domain name is still available. In this case you simply provide us with the username and the password and GLD will set up your site directly on your server.
** The only fee, other then to maintain your url, that you will be required to pay after 12 months will be the standard hosting service fee. This is not paid to GLD but the host that we select for you, and currently is around $7 per month. If you already have a host that you want to continue working with, GLD will review their server and if all is in order, will install the new site on your server. In this case you do not receive the 12 months of free hosting that is listed above.
How to Get Started
Fill out the form below and someone from the GLD web team will be in contact with you.