"Refocus Your Audience For Only $34.50 Per Month – Limited Time! – Beginning Spring 2016"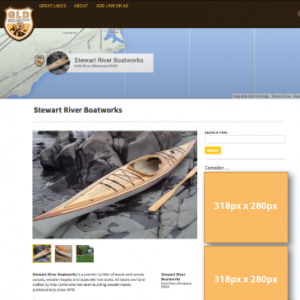 Advertise On GLD. You're Customers Are Here.
This is where your customers come to plan their trip… and find the things they need! And the best thing about advertising here is that GLD places you in front of the audience most likely to buy from you right now!
We don't accept all ad requests but when we do we put you in front of your customers.
FAQ
Why So Cheap?
Why not? GLD was created to provide Great Lakes business a way to promote their locations and provide incentive for others to visit. Grab hold of our introductory rate. It won't last long!
Why Advertise On GLD?
On GLD, your audience selects the categories that relate to your product, so you know they are interested in what you offer! It's not an automated system repurposing ads that relate to something that was of interest yesterday, but now! This is realtime marketing, like a sign hanging in your store and your customer is standing in front of it. For example. if someone is interested in going camping and they are searching for outfitters or remote campsites, you will want to be on every listing that fits into those two filters if you rent canoes or sell gear.
How Does It Work?
We drill it down so your ad is placed in front of the right audience! All categories in the "GLD-Great Lakes Filter" are separated within specific markets. When a visitor comes to GLD to search their interests, they filter by market and only that category selected appears on the map. You pick your markets. GLD brings it all together… and the nice thing is that people visiting GLD are probably planning on spending money. It's a win win for everyone. GLD visitors don't have to look at a lot of unnecessary ads, and you know that when someone sees your ad they picked your topic of interest themselves.
Open Map View & View Filters
How Much Does It Cost?
GLD Limited Time Special – $175 a month for single month/less than a full year placement, or $34.50 per month when you sign up for a 12 month placement — Per Category! We want you to be a part of GLD from the get-go so we cut a deal for those that stick around. It's our way of saying thank you! It also takes time to add and subtract advertisements, so whether we do it over a month or a year GLD will work with you. We know that you may want to update your advertisement once throughout the year, but would still like to get the 12 month rate. In these cases we work with you. Just send us the updated ad info and we'll switch it out. That's a great deal from a great partner!
What Do I Get For My Money?
You get one advertisement placed in rotation under one entire market of your choosing (i.e. camping, or hiking, or golf, or etc.) for twelve months. Select any one of the categories in the GLD – Great Lakes Filter, on the homepage, and your add will rotate on every GLD listing and article that relates to that market. This is a limited time offer! Once we expand into Lake Michigan, Lake Huron, Lake Erie and Lake Ontario with the listing pages, you will also be able to drill it down by (a) Lake (b) State, and (c) Market/Topic. Take advantage of this limited time offer now! If you have questions, please let us know.
Where Will My Ad Be Displayed?
When a GLD visitor selects an icon on the map or a listing in the grid, if you have selected the category that the listing is under, your ad will show up in rotation, in the right column when viewed by a desktop browser and if mobile, below the listing information. Remember, the visitors are there to see the trip information first. If we can keep them happy, it will relate to your products in the end.
Less Is Sometimes More.
You may think that if there are not many listings under a specific filter it's not worth it, but that is not always the case. GLD is always adding more listings, but sometimes there are only so many that pertain to a specific activity or request. In these cases, if someone is looking for that specific topic you are even more likely to be seen. If you are selling something pertaining to birding and there are only a few locations that really pertain specifically to birding, the person will see your ad just as prominently as if they are looking for lodging and you are listed. The benefit may be that there are less advertisers on these specific locations because they don't think it is worth listing. That's when less is more!
What Size Ad Do I Get To Place?
Ads must be 318px by 280px by 72 resolution. The ad should be a non-transparent PNG or JPG and less then 47kb in size. GLD also offers advertising services at a fixed rate. For a total of $199 GLD will take your information and create an ad to the correct specifications, send it back for approval, make any final adjustments and then send you the final so you have it on hand for when you select your placement(s) More details below.
We Create Your Ad For You!
We will take your information and create an ad for you. If you have an image you would like incorporated, we will place it. If you do not have an image we can find one from a stock alternative for around $100 additional, depending upon the image you select. It's that cheap and that easy to list on GLD! If you prefer selecting the stock photography yourself take a look at www.istockphoto.com or www.shutterstock.com.
So Many Great Promotional Opportunities!
You may also want to make sure everyone that visits the homepage sees you. Click the button below to find out more.
More Ways To Reach your Audience.
HOW DO I PLACE AN AD?
Four Easy Steps To Selecting Where Your Ad Should Go!
Go to the homepage map > roll over the filters icon > click through the various GLD filters on the right that relate to your product or message.
Select the category or categories where you would like your advertisement to show up.
Make a list of the markets you want to target.
Fill out the form below and select all the markets you wish to target. It's that easy!
How to List a Location
Fill out the form below. If you have the ad finished, simply attach it and we'll review the order and send you an invoice and a link where you can make the final payment if everything looks good.
Thank you for your consideration!
If you have any questions, just send us a note using the link below!
–GLD
Payment Comes Later: Once GL has reviewed the request, content, and information, one of our team members will send you an email with a summary of request, invoice, and payment link to make sure everything is in order.
Thank you for your interest and have a Great Lakes Day!
Questions About Advertising on GLD