"Stand Out From The Crowd! (…Stand Out From The Crowd!)."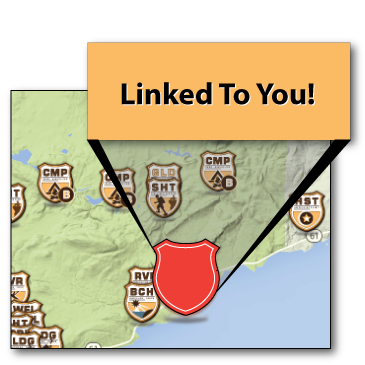 Make Your Mark! Don't Let Them Pass Without Seeing You.
If you have a special event coming up, or simply want to be seen, we have an offer for you! Not for everyone, GLD now offers short-term fireworks with your name written on it!
We don't accept all icon requests but when we do we put you in front of your customers.
FAQ
Why Own Your Own Icon?
An upcoming event! A special time in the season that needs to be great! You simply want to stand out. There are many reasons why you might want to be one of the first listings seen. I am sure you can come up with a great reason. Perfect for festivals, big sales, and simply making your company look more powerful then the next.
How Does It Work?
Tell us that you want to own your own icon and we'll do the rest! First – Tell us the period you want it to be up, and we'll post a special eye-catching icon on your listing! Second – If you would like a special image, message, and/or link to an additional site added to your listing, send us the information using the form below and we'll do the rest of the work to make sure it's up. It's like holding the light in the tunnel.
How Much Does It Cost?
Because it wouldn't work if everyone did it, GLD will let you own your own "Bling" icon for just $699 per 15 days, or $1,043 for 30 Days. As we said, this is not for everyone… and shouldn't be. However, imagine the traffic and all the free clicks! So if you have an event or a business that makes it worth the investment, let us know and we'll get you all set up! If you are a store chain that would like to be represented at multiple locations, let us know!
What Do I Get?
You get (1) a red icon on the page that is visible for every category, (2) an updated image on your listing for the time period ordered, (3) an additional link to a special url that you determine important, and (4) a block of updated copy with a max of 500 characters that can say almost anything. GLD's mission is to help others find all these unheard of and unknown places that are so special to making the Great Lakes vibrant and keep the businesses on the map. Order your special event icon today!
ORDER YOUR SPOT BELOW
How to List a Location
Fill out the form below and if you have a new image, attach it using the section below. We will review the order and send you an invoice and a link where you can make the final payment if everything looks good. If there are questions or special requests that you have entered in the comment box below, we will contact you and make sure everything is answered and correctly set up to your expectations.
Thank you for your consideration!
If you have any questions, just send us a note using the link below!
–GLD
You Will Not Be Billed Until We Review The Information!
Once GL has reviewed the request, content, and information, one of our team members will send you an email with a summary of request, invoice, and payment link. If there are any questions, we will contact you to make sure everything is set and acceptable. Thank you for your interest and have a great day!
If you have questions, click below and let us know.
Thank you for your interest and have a Great Lakes Day!
Questions? – Click Here