Burmuda — Wooden Schooner 1860-1870 (SHIPWRECK)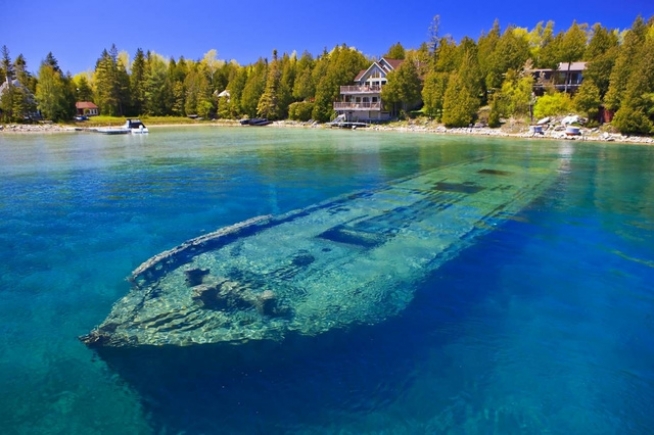 Burmuda — Wooden Schooner 1860-1870 (SHIPWRECK)
Grand Island, MI
The Burmuda, Wooden schooner, 394 gt., approximately 130 ft., sunk in Murray Bay, October, 1870. This wreck was confused for many years with the Dreadnaught and the Granada which were both salvaged from wrecks in Murray Bay.
Also known as the Murray Bay wreck, the Bermuda was a 130 foot long wooden schooner that sank in the Bay off Grand Island on October 15, 1870. She is popular with sport divers because of her depth and condition. The wreck is upright in shallow water and the top deck is reached at just 12 feet. Three large hatches open to the cargo hold and two companionways. A large cabin trunk, where the cabin blew off while sinking is near the stern. Schools of rock bass and other colorful game fish are common.
The wreck is intact in 12 to 30 ft. of water in remarkable condition for a shallow wreck.
"Bermuda", Herman H. Hettller, and a mysterious scow schooner, with no name, met their demise in the frigid waters of Lake Superior. No scuba gear? No problem.. view them all from a glass bottom boat! – roadtrippers.com
Location: LORAN: 31649.5 / 47432.2, LON/LAT: 46.27'87" / 86.38'79"
Shipwreck Map Of Munising Area – Source
Photo – Source
Shipwreck Tours – Glass Bottom Boat

Interesting Link – Alger Underwater Preserve
For ships in trouble on the long southern coast of Lake Superior, harbors of refuge are few. Munising is one of them. The waters off Munising are sheltered by Grand Island and have been the final destination of many ships seeking safe harbor from the fury of the big lake. The area stretching from just west of Munising to Au Sable Point and including the Pictured Rocks National Lakeshore is the home of the Alger Underwater Preserve. Several major shipwrecks lying within recreational diving limits are found inside its boundaries.
Alger Underwater Preserve Map & Shipwreck List
Video Of Bermuda Dive
All content the property of Brendon Baillod and Great Lakes Shipwreck Research & Alger Underwater
Preserve. Photography there property of roadtrippers.com
IMPORTANT NOTE: Great Lakes Drive, affiliates, and site resources are not responsible for any incidents attributed to the use of this information. All information provided on this site should be considered a simple bit of information that informs the average individual on activities or available lodging that others have participated in, and in many cases warns them of dangerous aspects of a location, and should not be considered a promotion for taking part in the activity or a recommendation to use, stay, or support. Some of these pages represent extremely dangerous activities and should not be considered by individuals and families as normal activities. Many of the links provide information contributed by professionals or adrenaline junkies and are meant only as interesting points. Other information would probably never be heard about and represents wonderful historic facts and fiction about places that have disappeared. All activities from driving a car to entering the water can be hazardous and should be taken on at your own risk. Take responsibility for your actions and be very careful when exploring this wonderful fast land that is available to us all. Ads on the site may be from awesome companies but for legal reasons they do not necessarily represent the beliefs or receive the support of GreatLakesDrive.com. By reading the information on a page, and/or clicking on any of the links, you agree to take full responsibility in the result. Drive Safely! Stay on the path if you are concerned about the results of stepping off the edge. Discover a wonderful place right in your own backyard! You will never forget it.