Kimball Falls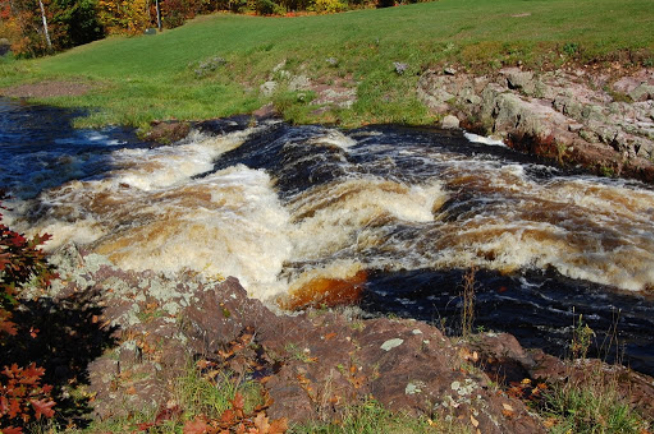 Kimball Falls
Kimball, Wisconsin
Kimball Falls is in Kimball Wisconsin. While driving west along US 2 from Saxon Falls to Peterson Falls you will see a small sign on the south side of the road for Kimball Falls. Kimball Falls is a small rapids in a small park. It is less than a mile from US 2 and easy to get there, so visiting it will not take much time, and it would be a nice area to stop for a lunch break. The sign for Peterson Falls is the same style as the sign for Kimball Falls, but Peterson Falls is far more impressive.
Kimball Falls is not a particularly large waterfall, and I'm not really sure whether I would go and search for it if there weren't a number of other really great waterfalls nearby. It is found between Ironwood/Hurley and Saxon. In that stretch, you've got Interstate, Peterson, Saxon, and Superior Falls, all of which are more interesting. Along the way, though, you'll pass this small falls, and it's very easy to stop and view them.

The falls are found at the Kimball Falls park, which is a very nice park. If I lived in the area, I'd visit it frequently. When we visited in October, the fall colors were absolutely spectacular last year, and so the trees were ablaze in reds, oranges, and yellows. It had also rained significantly in the past few days, making Kimball Falls seem at least a little bit more powerful.
Directions
Travel west from Hurley on Hwy 2 for 3 miles. Turn south (left) on Park Road and continue 0.2 miles. Turn west (right) on Town Park Road. Cross the one-lane bridge to enter the park just below the falls.
Northern Wisconsin Waterfalls
Fall's Quote Source
Photo Source
All content the property of the waterfallrecord.com. Photography the property of The waterfallrecord.com.
IMPORTANT NOTE: Great Lakes Drive, affiliates, and site resources are not responsible for any incidents attributed to the use of this information. All information provided on this site should be considered a simple bit of information that informs the average individual on activities or available lodging that others have participated in, and in many cases warns them of dangerous aspects of a location, and should not be considered a promotion for taking part in the activity or a recommendation to use, stay, or support. Some of these pages represent extremely dangerous activities and should not be considered by individuals and families as normal activities. Many of the links provide information contributed by professionals or adrenaline junkies and are meant only as interesting points. Other information would probably never be heard about and represents wonderful historic facts and fiction about places that have disappeared. All activities from driving a car to entering the water can be hazardous and should be taken on at your own risk. Take responsibility for your actions and be very careful when exploring this wonderful fast land that is available to us all. Ads on the site may be from awesome companies but for legal reasons they do not necessarily represent the beliefs or receive the support of GreatLakesDrive.com. By reading the information on a page, and/or clicking on any of the links, you agree to take full responsibility in the result. Drive Safely! Stay on the path if you are concerned about the results of stepping off the edge. Discover a wonderful place right in your own backyard! You will never forget it.