Potawatomi Falls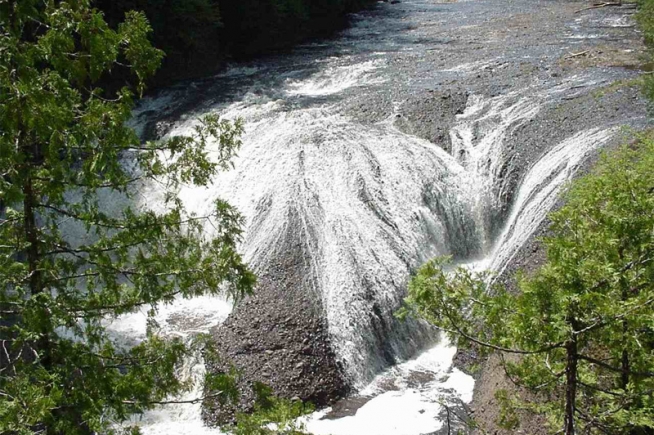 Potawatomi Falls
Bessemer, Michigan
A very scenic waterfall along an especially scenic part of the Black River. An added plus is the close proximity of the equally impressive Gorge Falls. These are two of the most impressive falls on the Black River and are also the two easiest to access.Potawatomi Falls is just upstream of Gorge Falls and is reached from the same parking area. Potawatomi is the name of one of the native tribes. This waterfall is wheelchair accessible. Gorge Falls is just a short walk away.
Located just 12 1/2 miles northwest of Bessemer Mi. there are well marked brief hiking trails that will take you from a double looped paved parking lot to a series of stairways and observation platforms overlooking beautiful Gorge and Potawawatomi Falls. This trail is easy to strenuous (series of steps). We recommend that you take the trail from Potawatomi Falls parking lot, then walk down along the river as you view the scenic river and falls. Gorge Falls is only a short distance north of Potawatomi Falls. An asphalt surface trail connects the parking area at Gorge Falls to the accessible viewing platform overlooking Potawatomi Falls. This provides a unique opportunity to view one of our areas most beautiful waterfalls. Conglomerate Falls can be hiked to by going south (upstream 1/2 mile) via the North Country Trail. Sandstone Falls can also be hiked to by going north (downstream 1/2 mile) via the North Country Trail. Picnic sites and toilets are available near the south end of the Gorge Falls parking lot with easy access. Gorge Falls has a 29 foot width and a 24 foot drop. Potawatomi Falls has a 130 foot width and a 30 foot drop.
Waypoint: 46.631604N 90.055346W
Directions
The Black River Scenic Byway starts north of US 2 near Bessemer. There are signs on US 2. Gorge Falls is about 12.5 miles north of US 2. The scenic area is on the right and is clearly marked. The falls are a short walk from the parking area
Area Information – Black River Harbor Area
Forest: Ottawa National Forest
District: Bessemer Ranger District
Description: About 15 miles north of Bessemer, Michigan, the Black River flows through eastern hemlock and northern hardwood forests in a series of scenic waterfalls as it drops to enter Lake Superior. Several short hiking trails lead to the waterfalls from trailheads along the Black River National Scenic Byway (County Road 513). These trails provide opportunities to view a lovely display of spring ephemerals and other wildflowers as well as the waterfalls and their conglomerate and sandstone rock formations. The area includes the harbor, Great Lakes beach, a picnic and day use area, a campground, and trails into five distinct waterfall-viewing areas.
Other Features: The Black River waterfalls provide year-round attractions. Conglomerate Falls is the farthest upstream, with Potawatomi, Gorge, Sandstone, and Rainbow spread out over about two miles below. During the spring snowmelt and ice breakup period, high flows in the river provide exciting displays and the opportunity for daredevil kayakers to run the river. Catching ice-out at the harbor itself is a special treat. Winter waterfall viewing is also possible–snowshoes are usually needed and trails may be icy so visitors travel at their own risk.
Camping, river and lake fishing, picnicking, beachcombing and lake swimming are also featured at the harbor. A variety of birds may be seen, including bald eagles. There is a self-guided birding loop trail near the campground. White-tailed deer may also be seen in the harbor area.
Trails: Waterfall trails begin at trailheads off County Road 513 on the west side of the river, and extend to the falls:
Conglomerate Falls hiking trail: ¾ mile includes stairs and observation platform.
Potawatomi and Gorge Falls trail: short, includes a series of stairways and observation platforms. The trail, restroom and viewing platform at Potawatomi Falls are fully accessible.
Sandstone Falls: ¼ mile includes stairs.
Rainbow Falls: ½ mile, stairs and platform.
A segment of the national North Country Trail runs parallel to the river on the west side, connecting the waterfall trails and continuing north toward the beach, crossing Black River on a suspension bridge and providing access to view Rainbow Falls from the east side before continuing away from the river.
Viewing Information: The hemlock-hardwood stands above Black River provide a variety of wildflowers to view starting in early to mid-May each year. Spring ephemerals including cutleaf and two-leaf toothworts, spring beauty, trout lily, Dutchman's breeches, bloodroot, hepatica, nodding and great white trilliums are the first flowers to appear. Later in the spring, visitors can see blue, yellow, and white violets, starflower, blue-bead lily, buttercups, Jack-in-the-pulpit, and bellworts. While the flowers are not apparent, the lush growth of wild leeks or ramps also draws visitors. These leafy, wild relatives of the onion occur in large, aromatic patches in wetter spots. Throughout the snow-free season, ferns and club mosses are also visible on the forest floor, and a variety of shrubs may be seen. The northern hardwoods (e.g. sugar maple, yellow birch, and basswood) provide a lovely color display in the fall.
Late May and early June provide the best spring wildflower display, viewed from the various trails. Stable flies in June and July can render the beach itself an unpleasant place to be, but they do not extend inland. Parking lots are usually closed in winter and opened in the spring around May 15.
Safety First: Visitors should recognize that the trails are steep in places, and pace themselves to avoid over exertion. The waterfall viewing platforms are mostly open with wide spaces: parents should be especially careful that small children do not slip and fall off the platforms or stairways. There are steep drops to the rocks and river below. The weather at Black River is often cooler than surrounding areas, due to the presence of Lake Superior. Sturdy footgear is recommended for hikers and insect repellent may be advisable in summer. Mosquitoes, biting flies, no-see-ums, and wood and deer ticks may be present.
Fall's Info Source 1
Fall's Info Source 2
Area Info Source
Jon Gittins – Photo Source
All content the property of the www.minocqua.org and USDA Forest Service. Photography the property of Jon Gittins.
IMPORTANT NOTE: Great Lakes Drive, affiliates, and site resources are not responsible for any incidents attributed to the use of this information. All information provided on this site should be considered a simple bit of information that informs the average individual on activities or available lodging that others have participated in, and in many cases warns them of dangerous aspects of a location, and should not be considered a promotion for taking part in the activity or a recommendation to use, stay, or support. Some of these pages represent extremely dangerous activities and should not be considered by individuals and families as normal activities. Many of the links provide information contributed by professionals or adrenaline junkies and are meant only as interesting points. Other information would probably never be heard about and represents wonderful historic facts and fiction about places that have disappeared. All activities from driving a car to entering the water can be hazardous and should be taken on at your own risk. Take responsibility for your actions and be very careful when exploring this wonderful fast land that is available to us all. Ads on the site may be from awesome companies but for legal reasons they do not necessarily represent the beliefs or receive the support of GreatLakesDrive.com. By reading the information on a page, and/or clicking on any of the links, you agree to take full responsibility in the result. Drive Safely! Stay on the path if you are concerned about the results of stepping off the edge. Discover a wonderful place right in your own backyard! You will never forget it.