U.S.S. Essex – Steam Naval Sloop 1876-1930 (SHIPWRECK)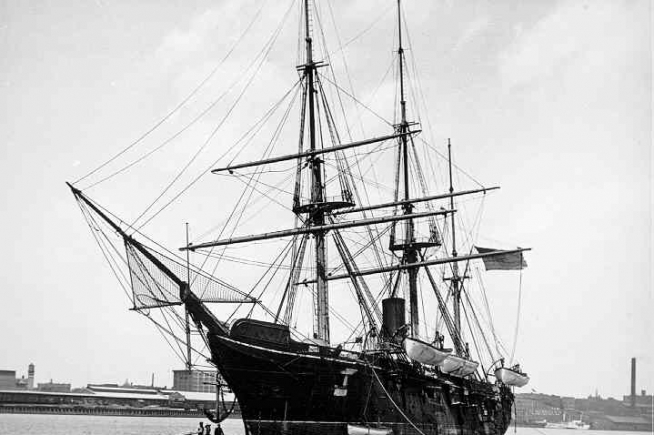 U.S.S. Essex – Steam Naval Sloop 1876-1930 (SHIPWRECK)
Duluth MN
The U.S.S. Essex was an Enterprise Class sloop built by Donald McKay at East Boston, Mass. It was launched in 1876. It was 185 feet long, with a 35-foot beam and a 14-foot draft. TheEssex displaced 1375 tons of water. Period photographs show it had at least eight gun ports on each side of its gun deck (below the main deck). The Essex originally carried an 11 inch smoothbore on a waist pivot mounting, four 9 inch Dalhgrens in broadside and one 60 pound cannon.
The Essex had an extremely fine entrance with a figure head, a rounded stern and moderate tumble home. It was equipped with a bowsprit, a jib boom and a flying jib boom. While photographs do not indicate it was coppered on its bottom, sheathing must have been employed given its service in tropical waters. Photographs show large iron folding stock anchors at its bow. The Essex carried three life boats positioned outboard on davits on the maindeck. A large stack was situated just forward of the central mainmast.
The Essex relied upon both steam and sail power and was rigged as a functional three-masted bark. While no actual sails are shown, photographs depict the spars of her three-masts. TheEssex appears to have carried at least a gaff-topsail and a spanker on her mizzen-mast, the main-mast carried a square main-sail, a main topsail, a main topgallant and a main-royal, and her fore-mast carried a fore-sail, a upper fore-sail, a fore topgallant-sail and a fore-royal. It is unknown what type of staysails it carried, although the rigging in the photographs indicate several between the masts. Additionally, the running rigging indicates it carried a flying-jib, a jib and a fore-topmast-staysail.
 When She Went Down
The U.S.S. Essex served Minnesotans for only three years before being stricken from the Navy list on Oct. 27, 1930. The Essex's sale for scrapping on Dec. 23, 1930, led the Detroit Free Press to lament the loss of the oldest steam-powered vessel on the Navy list, the vessel having outlived all five vessels of its class. The second most long-lived, the U.S.S. Adams, was sold from the Navy in 1920. The Detroit Free Press article on Nov. 22, 1930, stated "On December 17 initial steps to divorce her from the navy will be instituted when she is offered to the highest bidder adjudged capable of treating her kindly in her old age."
The Essex was sold by the navy to A. J. Klatzky, president of the Klatzky Iron and Metal Company for $400. The vessel was partially dismantled and some pieces of the ship were sent as souvenirs to former officers and enlisted men throughout the country. The Essex was towed out to the lake side of Minnesota Point on Oct. 13, 1931, where it was to be put to the torch. A bonfire was started on Oct. 14, and the oldest steam cruiser in the navy soon passed into history. The Essex was lit with 200 gallons of kerosene and oil and by morning the vessel had burned to the water's edge. According to The Superior Evening Telegram of Nov. 2, 1984, "…two heavy steel cables held the ship so a strong wind could not blow it out to sea." What was left of the ship was towed further into shore by means of a hand winch and the fire continued to burn. It was the ambition of the Klatsky Brothers to burn enough of the boat to pull its bottom up on shore.
U.S.S. Essex Detailed Information
MN historical Society Shipwreck Map
All Content the property of MN Historical Society and Sources. Photo the property of Aug. 22, 1904; C. Patrick Labadie Collection, Duluth, MN.
IMPORTANT NOTE: Great Lakes Drive, affiliates, and site resources are not responsible for any incidents attributed to the use of this information. All information provided on this site should be considered a simple bit of information that informs the average individual on activities or available lodging that others have participated in, and in many cases warns them of dangerous aspects of a location, and should not be considered a promotion for taking part in the activity or a recommendation to use, stay, or support. Some of these pages represent extremely dangerous activities and should not be considered by individuals and families as normal activities. Many of the links provide information contributed by professionals or adrenaline junkies and are meant only as interesting points. Other information would probably never be heard about and represents wonderful historic facts and fiction about places that have disappeared. All activities from driving a car to entering the water can be hazardous and should be taken on at your own risk. Take responsibility for your actions and be very careful when exploring this wonderful fast land that is available to us all. Ads on the site may be from awesome companies but for legal reasons they do not necessarily represent the beliefs or receive the support of GreatLakesDrive.com. By reading the information on a page, and/or clicking on any of the links, you agree to take full responsibility in the result. Drive Safely! Stay on the path if you are concerned about the results of stepping off the edge. Discover a wonderful place right in your own backyard! You will never forget it.